23 Nov 2020
Harrison Centre for Social Mobility is a pathway to progress, says former Education Secretary
The Harrison Centre for Social Mobility has been praised for its work in providing support for disadvantaged communities and creating employment opportunities.
The Centre, based in Sunderland, received the backing in a new report, produced by the national Social Mobility Pledge, which was cofounded by former Secretary of State for Education, Rt Hon Justine Greening.
Opened in 2017, by its founder David Harrison, the Harrison Centre for Social Mobility supports education and employability programmes across the UK, working with young people in disadvantaged communities.
A year later in 2018, the Harrison Centre opened its first dedicated learning centre at the Beacon of Light on Wearside, which was officially opened by HRH Countess of Wessex.
The Harrison Centre hosts workshops which give teenagers and young people the skills, confidence and experience necessary to get on in the world of work. Through its partner business, financial technology firm True Potential, learners from the Harrison Centre receive a head start in pursuing their career ambitions, with the opportunity to gain valuable work experience.
During the coronavirus crisis, the Harrison Centre stepped up its efforts to ensure people in disadvantaged communities were not further left behind by moving to an inclusive e-learning programme of delivery.
All participants continued to be engaged by course tutors through Microsoft Teams, and for learners who did not have access to technology or the internet, tutors posted workbooks and course resources to learners at home and drove to participants houses to pick up learner work to continue the assessment process.
Harrison Centre learners completed qualifications across months of lockdown which included: Maths and English, Personal and Social Development, ICT, Sport, Health and Social Care and Customer Services, all of which had a module of managing finances embedded into the work programme.
Learners have now returned to staggered face to face classroom delivery.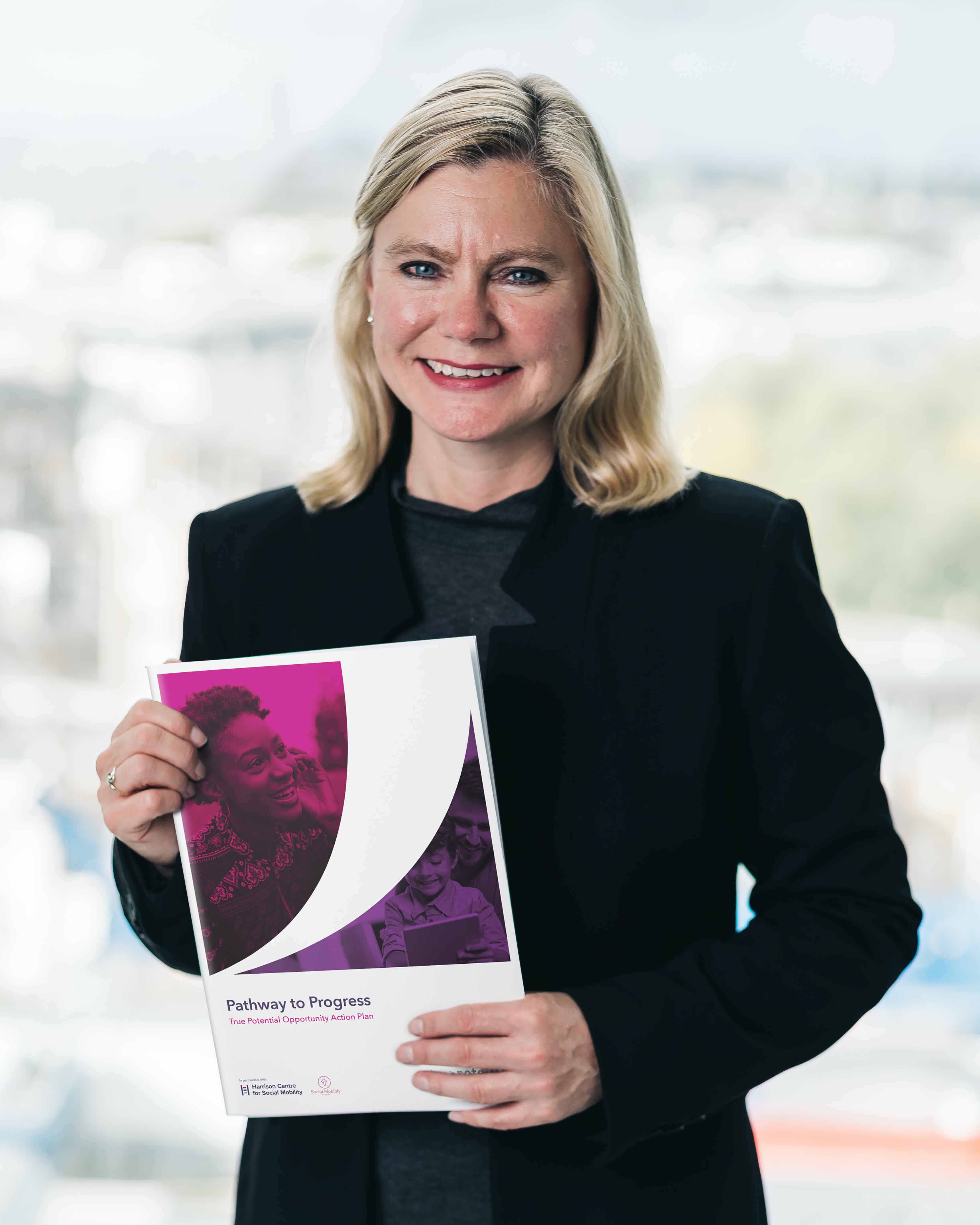 Commenting in True Potential's Opportunity Action Plan, entitled Pathway to Progress, Justine Greening said: "Levelling up our country is a challenge that needs a national effort and it's one that businesses and universities rallying around. Social mobility happens in schools, universities and workplaces and True Potential is well versed in harnessing this collaborative approach to improve social mobility.
"Its work with the Harrison Centre at the Beacon of Light in Sunderland, shows what can be achieved when a highly successful business that is an opportunity creator teams up with community stakeholders to identify and nurture talent from traditionally hard-to-reach places.
"The sports and education facility is home to the Harrison Centre for Social Mobility, the charitable arm of True Potential created by its chairman David Harrison and chief executive, Daniel Harrison. Every year it works with hundreds of young people to provide the tuition and training they need to help them grow in confidence and secure a job."
Harrison Centre founder and True Potential's chairman, David Harrison, added: "This report comes amid great economic turbulence, with some employers and employees unable to operate in current conditions.
"It is also imperative, however, that efforts to continue driving up social mobility are not postponed until brighter times. In fact, the pay-offs that come from supporting social mobility are exactly what businesses and indeed the country need right now.
"Our Opportunity Action plan sets out how we intend to develop the pathway we have created between the Harrison Centre and True Potential to give more people a route into working in financial services."
To read True Potential's Opportunity Action Plan, please click here here.